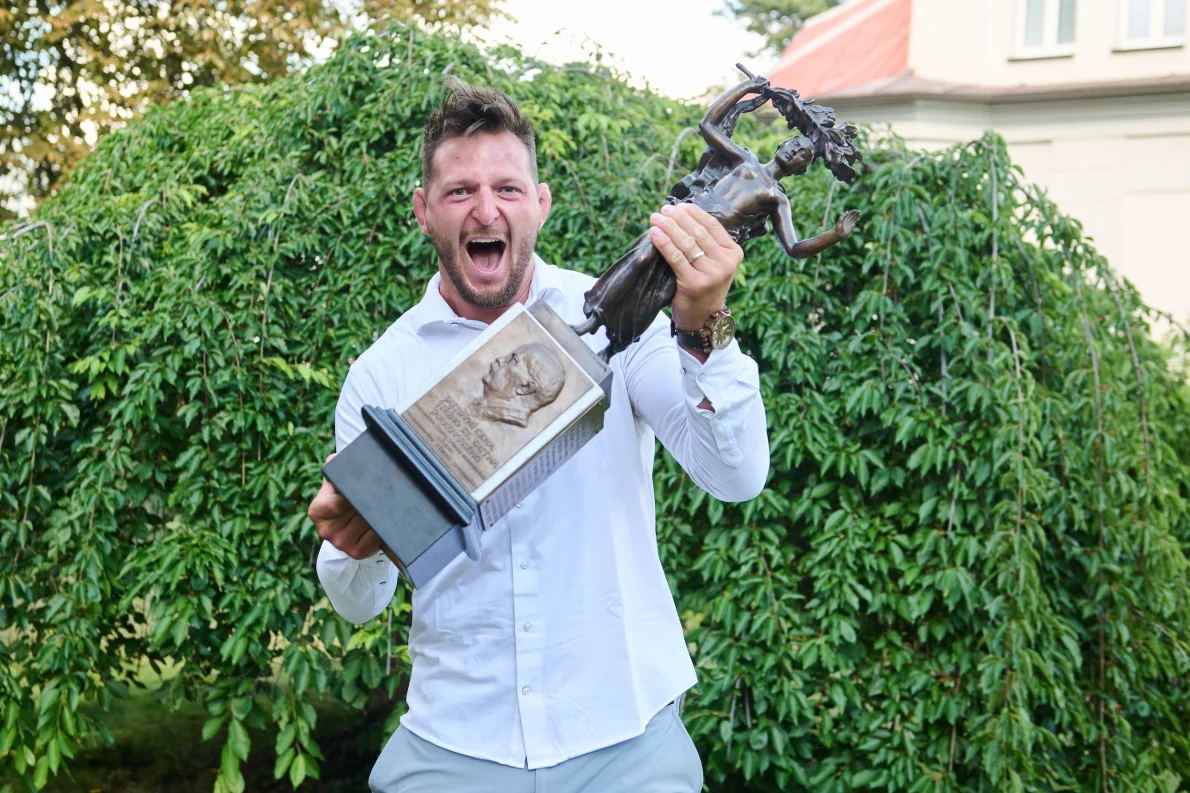 A hattrick for Krpálek. The Olympic champion receives another Jiří Stanislav Guth-Jarkovský Award
Czech Team
Japanese atmosphere accentuated by delicious sushi and the Japanese toy kendama reminded of Lukáš Krpálek's second Olympic triumph from Tokio. The thirty-one-year-old judoka dominated the heaviest weight category in 2021 – an achievement which brought him his third Jiří Stanislav Guth-Jarkovský Award, the most prestigious Czech sports award, a total of as many as speed skater Martina Sablíková.
"After I won the World Championships in the legendary Budokan Arena in 2019, I would have never thought I would achieve anything like that again. Two years later, I won the Olympic tournament in that same venue – an incredible combination which will be very difficult to beat," says Krpálek, who also tried his hand in sushi making with Chef Kim.
He received the award from the hands of climber Radek Jaroš, the first athlete elected by his peers to win the trophy in 2014. This year, athletes awarded this most prestigious Czech award for sports to their peer for the eighth time. This time, members of the Czech Olympic Team from Rio de Janeiro 2016, Pyeongchang 2018, Tokyo 2020 and Beijing 2022, European Games in Baku 2015 and Minsk 2019, Wroclaw 2017 World Games and Doha 2019 World Beach Games participated in the voting. Nominations are brought forward by national sports federations and the Czech Olympic Committee structures. The Top Ten is shortlisted by the Athletes Commission of the Czech Olympic Committee and the winner is selected by the athletes themselves.
Čepice dolů! 🙌 Slavíme HATTRICK! Lukáš Krpálek z @czechjudo potřetí ovládl Cenu Jiřího Stanislava Gutha-Jarkovského.

🏆 Vítěze vybírají samotní sportovci, kteří Lukáše ocenili za nejhodnotnější sportovní výkon roku 2021 #Gutovka21 pic.twitter.com/oohCpjNRO8

— Český olympijský tým (@olympijskytym) June 6, 2022
 The award was established in 1933 and it carries the name of Jiří Stanislav Guth-Jarkovský, the founder of Czech Olympism and one of the co-founders of the International Olympic Committee; the trophy – a statue of the goddess Nike by Otakar Španiel – weighs 29 kg. The very first winner of the award was weightlifter Václav Pšenička in 1934. Last time after the WWII it was awarded to runner Emil Zátopek in 1948; the tradition was reestablished in 1994. New names have been added to the marble base of the trophy ever since; these include Jan Železný, Kateřina Neumannová, Roman Šebrle, the ice hockey team from Nagano and other Czech sport legends.NOC
Did you like the article?