The EOC EU Office is the representation of the European Olympic Committees (EOC) and other major Olympic movement organisations in Brussels. Its main mission is to defend and promote the interests of the Olympic movement to European institutions.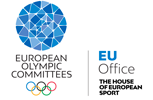 The Office identifies, monitors and analyses subjects of relevance to sport at European level; advocates on behalf of the Olympic Movement to EU institutions; provides support, assistance and expertise to its partners; organises and attends events, seminars and conferences; and manages EU-funded projects.
The structure of the Office is based on a partnership between a number of Olympic movement organisations including:
At international level -  IOC, International Ice-Hockey Federation or International Biathlon Union or ASOIF
At European Level -  EOC, ENGSO, European Athletics, Rugby Europe, FIBA Europe, European Volleyball Confederation, European Aquatics  or European Handball Federation
At national level - around 18 National Olympic Committees and National Sport Confederations
OFFICIAL WEBSITE
---
Czech Olympic Committee and EU affairs
The Czech Olympic Committee has joined the EOC EU Office in 2014 not only as a regular partner, but also as an important contributor to the Office's activities. COC's Vice President for International Relations, Roman Kumpost, became member of the Office's Board, and International Relations Manager, Jana Janotova, joined the EOC EU Office's team actively working both on EU-related matters and on COC's sport diplomacy until her departure from the COC in 2023.
Over the years, COC has built an in-depth expertise on, and gained substantial experience with, EU sport policy and funding for sport, which it has been actively sharing with Czech sport organisations and public institutions.
Furthermore, COC has been successful in applying for financial support from the EU (Erasmus + Programme) for a number of European projects, thanks to which it has enhanced its international relations and contributed to the development of the organisation itself. For more information, see Projects.