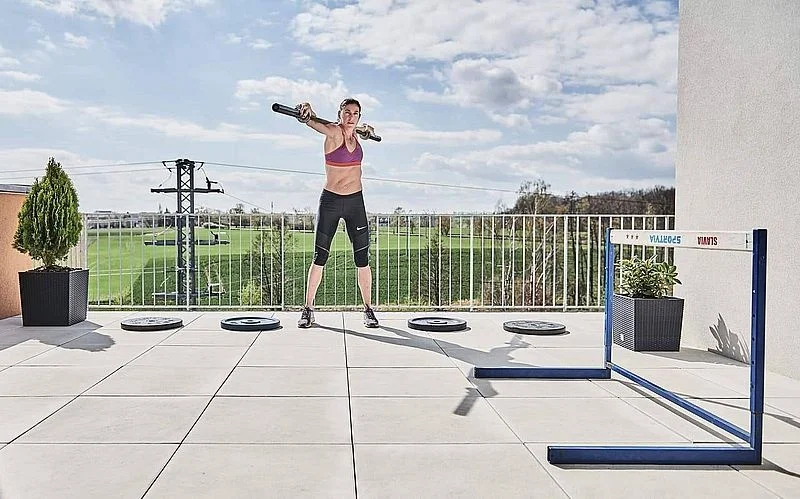 The Czech Olympic Team social networks now feature the Olympic Alphabet and coaching Dialogues.
Lifestyle
How do you organise training in a home setting? For example, according to the Olympic Alphabet. A simple challenge to take exercise during the quarantine was sent on the Czech Olympic Team social networks, which addressed over 1.5 million people and was shared over 5000 times. Some sixty athletes arranged the exercises assigned to the individual letters of the alphabet according to their own names. Fans could also take inspiration from their own training in quarantine.
"We launched the exercise activities under the hashtag #zabavsepohybem. We had three goals. To entertain people who had to stay at home, to get them moving as much as possible and then to show athletes in the same position as an example – they are also stuck at home, they stick to the rules and still manage to entertain themselves and their fans," said Tomáš Houska, digital media manager of the Czech Olympic Team.
Athletes too have ordinary concerns
The formats do not concern sport alone. The most successful video, during which Olympic snowboard cross champion, Eva Samková, cooked a simple meal reached over two million people across the networks. "Interest in similar videos was huge. People could identify with the athletes. Eva Samková had to deal with only having a limited stock of food at home. In one of the most successful videostrack cyclist Tomáš Bábek demonstrated training, in the middle of which his little daughter started crawling into shot on all fours. It is clear that even athletes share these everyday life situations," added Houska.
A hunger for sport, which has been suspended, has also attracted fans to the Czech Olympic Team Youtube channel. There has been an increased interest in, for example, TOP stories. "People are interested in sports content to help them pass the time," explained Houska. "The viewing figures for our digital channels is currently comparable with the numbers during an Olympic Games."
The series Steadfast Athletes also attracted great attention. It presents the training of athletes during the period of quarantine when standard training facilities were out of bounds. Czech NOC photographer, Barbora Reichová, documented the training of 12 athletes preparing for the Olympic Games in Tokyo, or for qualification for the Games. She photographed, for example, swimmer Jan Micka in a spa pool with swim current, rower Jakub Podrazil using a rowing machine on a terrace with a view of the Vltava, hammer thrower Kateřina Šafránková in a field, and Olympic judo champion, Lukáš Krpálek, training at home.
Coaching Dialogues newly online
Due to the current situation the coaching seminar Dialogues took place online for the first time. It is organised by the Czech Coaching Academy several times a year at various locations around the country for dozens of coaches and parents. The theme Parents and Children on YouTube was viewed by over 4500 people. "This is an excellent number for an educational video," added Tomáš Houska. The video is still available to watch.
After the closing of schools, the project Olympic All Around also had to move online. In ordinary circumstances this project would bring sport and opportunities to meet Olympians to children at schools in the coming weeks. And so now a challenge is prepared every week for pupils enabling them to test their strength remotely with famous athletes – an Olympian and Paralympian. The challenges also offer conditioning exercises – see HERE for more information. An online training dairy has also been prepared. Into this school children can enter their results and also complete within the project framework the disciplines that they weren't able to do at school. They receive a badge and diploma, which guides them to sports clubs.
The Facebook site for Sazka Olympic All Around also offers warm-up exercises with athletes, which the Czech Olympic Committee prepared immediately after the lockdown took effect in cooperation with Czech Television and the National Sports Agency as part of the programme UčíTelka. Over forty athletes have already appeared in broadcasts. Children could enjoy unique warm-up sessions with, for example, three-time Olympic medallist in the canoe sprint, Josef Dostál, and shooter Kateřina Emmons. They also had the opportunity to learn about sports that they don't usually come across at school, such as curling and bobsleigh.
Did you like the article?