Nine years on from Sochi 2014, Eva Puskarčíková, Gabriela Soukalová, Jitka Landová and Veronika Vítková of the Czechia women's biathlon team reunited in front of a sold-out, 30,000-strong home crowd to receive their bronze medals in an emotional ceremony at the International Biathlon Union World Cup event in Nové Město na Moravě, Czechia.
On 4 March 2023, Eva Puskarčíková, Gabriela Soukalová, Jitka Landová and Veronika Vítková were presented with their bronze medals for the women's biathlon 4×6 kilometres event from the Winter Olympic Games Sochi 2014 in front of a celebratory home crowd, friends and family.
Each of the now retired athletes were presented with their medals and bouquets of flowers, which they later threw into the crowd in gratitude for their support. Their entourage were also recognised for the part they played in their achievements in Sochi.
The special ceremony took place at the International Biathlon (IBU) World Cup in Nové Město na Moravě, Czechia, with the support of the ČOV, IBU and IOC as part of the Olympic Medal Reallocation Process, an initiative of the IOC Athletes' Commission.
"TO HAVE A MEDAL AROUND MY NECK, IT MADE MY LEGS BUCKLE. WE ARE THRILLED THAT EVERYONE STAYED, DIDN'T LEAVE, AND CHEERED FOR US.
AN EMOTIONAL REUNION
Seeing each other for the first time since 2016, the special ceremony was also a chance for the team to relive their experiences at the Olympic Winter Games, and as video replays were played on screen, the athletes couldn't hide their emotions on stage.
"I got goosebumps when Veronika was finishing the race in the flashbacks from Sochi," reflected Jitka, who retired from biathlon in 2015, and now works as an English and physical education teacher. "To have a medal around my neck, it made my legs buckle. We are thrilled that everyone stayed, didn't leave, and cheered for us. And that our closest people could be here."
Zobrazit příspěvek na Instagramu
"I was very moved; I couldn't prevent the tears," added Gabriela, who now contributes as a sports expert for Czech TV. "It's a domino effect. The presence of loved ones did its job."
I HAVE TO SAY THAT THE ATMOSPHERE WAS PERHAPS EVEN BETTER THAN IN SOCHI, BECAUSE THE ENERGY HERE WAS UNBELIEVABLE. I DIDN'T EXPECT TO BE SO OVERWHELMED.
GIVING ATHLETES A CHOICE OF MEDAL CEREMONY
Speaking before the event, ČOV Sports Director Martin Doktor, who was also the country's Chef de Mission in Sochi, explained how they had wanted to organise something special, where Eva, Gabriela, Jitka and Veronika could celebrate with both loved ones and home supporters.
"We wanted to organise the nicest ceremony possible in a sports atmosphere to compensate Eva, Gabriela, Jitka and Veronika, at least a little, for the atmosphere and experiences that they all lost," said Martin.
The ČOV were guided by the Olympic Medal Reallocation Process, an IOC Athletes' Commission initiative which provides athletes with a menu of options to receive their medal in a way that recognises their achievements. The IBU event gave the four women the opportunity to take photos with their family and friends in attendance, and proudly display their bronze medals to the thousands watching at the venue and on TV.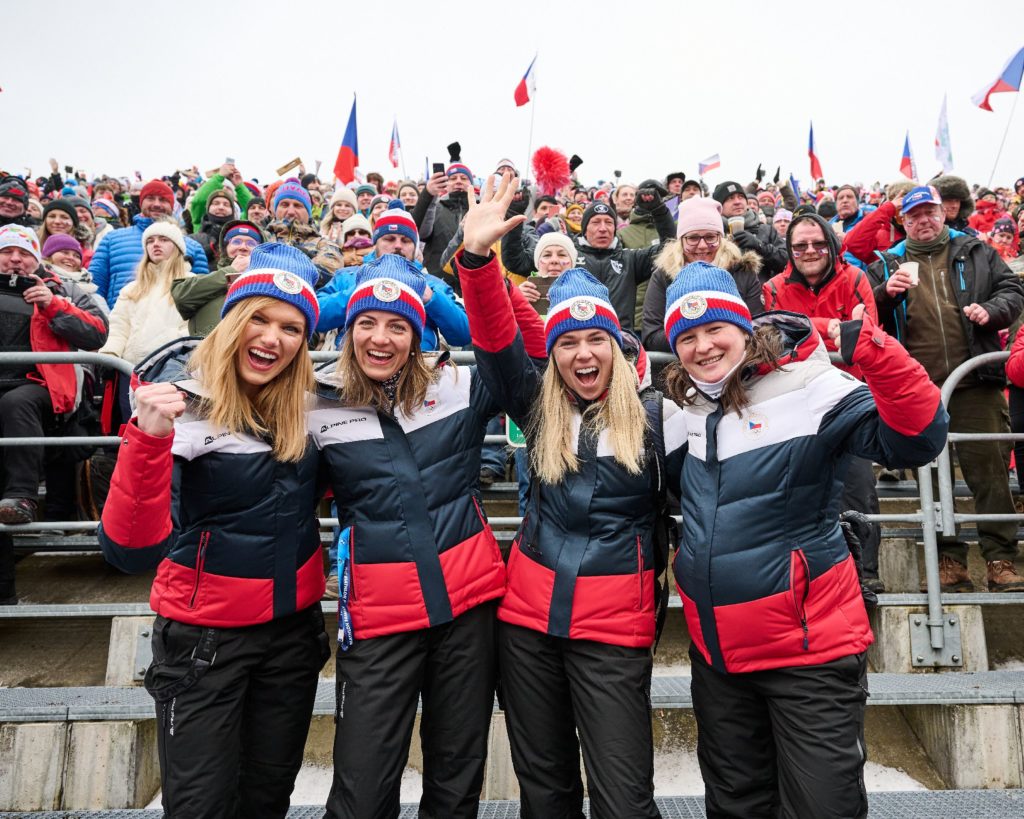 "It's super; I am a three-time Olympic medallist," said Veronika, who has moved into coaching since retiring as an athlete. "The third medal was a long time coming, but it's very satisfying now."
"I have to say that the atmosphere was perhaps even better than in Sochi, because the energy here was unbelievable. I didn't expect to be so overwhelmed," added Eva, who recently announced her retirement from the sport. "It was a super special day for which I am very happy, and I will remember it for the rest of my life."
Discover how the Olympic Medal Reallocation Principles are giving athletes the opportunity to receive their medals in a way that feels right to them.
Did you like the article?