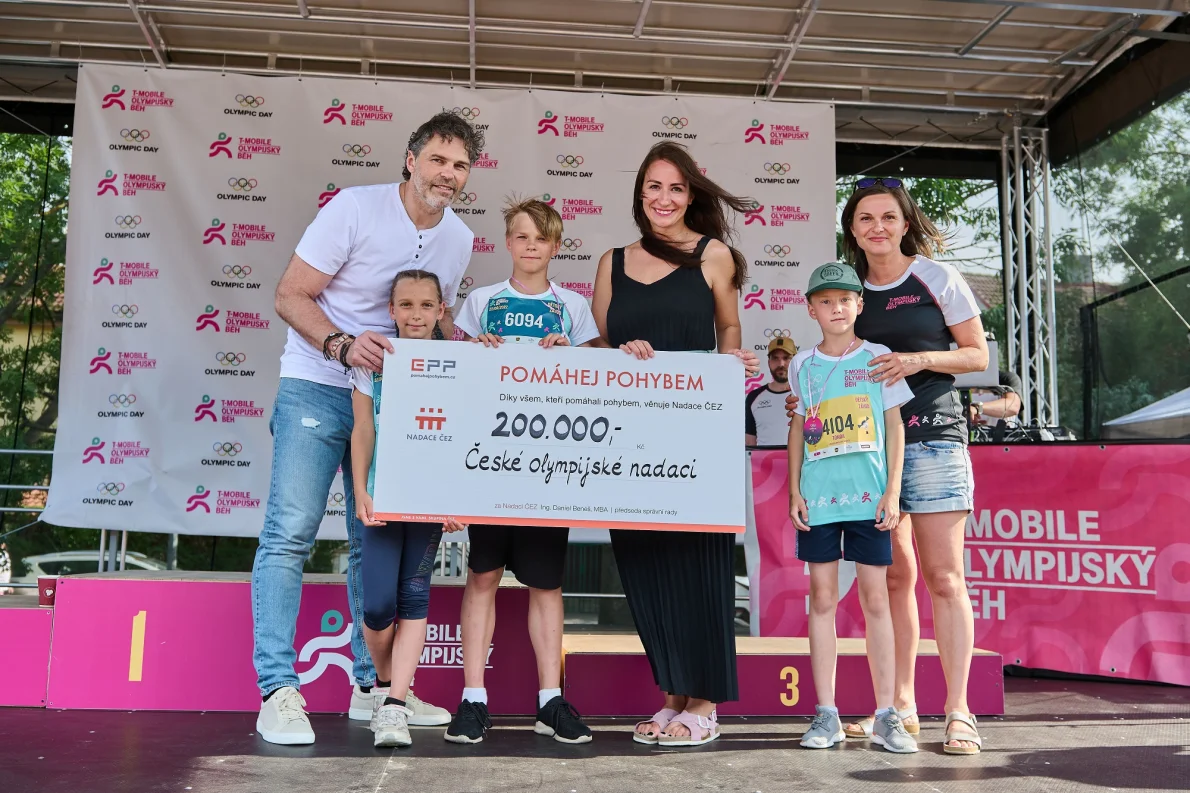 73 thousand runners including Jaromír Jágr took part in the exceptional Olympic Run
Olympic Day
Over 73 thousand runners participated in the Olympic Run on 22 June 2022 in an event supported by T-Mobile. Already in the morning, this largest running event in the Czech Republic welcomed 63 thousand students from 341 schools. In the afternoon, the nation-wide event opened for runners in 87 different locations. This year's edition celebrated the Olympic Day in the spirit of the Olympic value of Excellence.
Jaromír Jágr, a hockey legend, an Olympic champion from Nagano and two-times Stanley Cup champion, opened the run in Hvězda park in Prague. "We are here to promote sport, especially sport for children. We all know how important it is. This is what it is about," he said. He was also invited to hand over the medals to the winners in children's categories. "I admire every runner. I haven't run for twenty years myself although I know how much it would have helped me. I would have been a much better athlete."
Together with Olympic medal winner Eva Datinská he presented an award to Martin Varjassy who suffers from polio. Regardless his physical limitations, Martin loves sport, and the Olympic Run has become his favourite activity.
Other Olympians participated in the event, including curlers Zuzana and Tomáš Paul, modern pentathlon champion from London 2012 and athletics competitor Anežka Drahotová. Swimmer Barbora Seemanová, gymnast Aneta Holasová and six times Paralympic gold winner Jiří Ježek presented medals to the winners. In Brno, the participants could meet Šárka Kašpárková, the bronze Olympic medal winner in triple jump, Jiří Lipták, a Tokyo Olympic gold winner, shooter Jakub Tomeček, figure skater Eliška Březinová and Paralympian swimmer Dominika Míčková. Olympic champion cross-country skier Kateřina Neumannová from Torino 2006 and several other athletes joined the event in other locations.
We again attracted thousands of runners from all over the country who all shared the Olympic ideas and values.
The event also supported a cause. A contribution was made to children sports through the Czech Olympic Foundation from every adult's starting fee. This year brought the highest proceeds in history – CZK 619 thous., with CZK 200 thous. coming as a donation from ČEZ Foundation.
The distance of the T-Mobile Olympic Run is typically 5 or 10 km to make it accessible literally to anyone and maybe discover each participant's excellence. This is not as much about sporting performance as about moving one's boundaries. "This time we again attracted thousands of runners from all over the country who all shared the Olympic ideas and values," concluded David Novotný, the manager of the Olympic Run.
Did you like the article?